This tutorial show you howto setup a complete SharePoint 2013 BI Development environment. The goal is to have SharePoint environment with all Business Intelligence features enabled and a more production like setup with distinguished service accounts and kerberos configuration enabled. The installation process will be partly automated using AutoSPInstaller and PowerShell scripts for installation and provisioning of service applications. The reason for this is to have a more clear and consistent method for future installations that also can be adapted to a  real world production environment.
The environment will consist of three servers: domain controller, database server and SharePoint server. To achieve those three servers we will configure a virtual environment using VirtualBox.
The environment will be "two-tier" farm setup shown in the diagram below: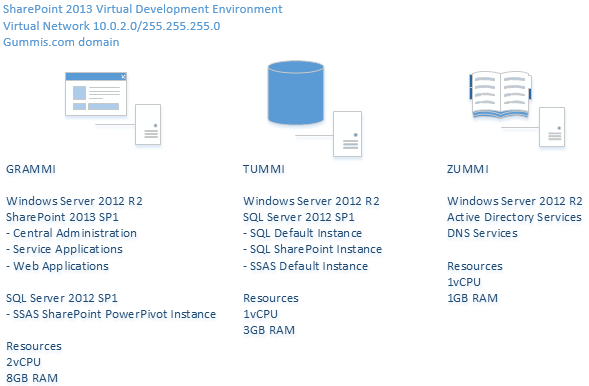 SharePoint 2013 BI Development Environment
The tutorial is divided into four different posts/parts. Although they are all a part of the tutorial they are thought to be used independently as well depending on your needs. For example if you only would like to configure kerberos or only want automate an installation with AutoSPInstaller etc.
Content